Since our foun­da­tion in 2015, we, as a SAP con­sultan­cy firm, have worked closely with SAP on our custo­mer projects and deve­lop­ments. We do not just conti­nuous­ly de­monstra­te our level of quali­ty through our success­ful enga­ge­ment as a SAP consultancy firm — we also pro­vide success­ful consul­tancy ser­vices through our cer­tified expert per­sonnel. We are proud to be an official SAP Gold Partner.
Our commendations as an attractive employer include awards from FOCUS-Busi­ness, ku­nu­nu and Great Place to Work®, who have honoured us with their well-known award for the current year.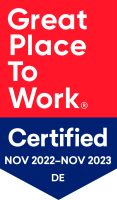 Q-THOR Software Certified by SAP
The data quality software Q-THOR has been pro­ven for many years and runs on non-SAP as well as SAP landsca­pes. This has been offi­cially con­firmed by SAP. Q-THOR is offi­cially certi­fied by SAP for use on SAP HANA 2.0 via the SAP inte­gra­tion scenario HANA-APP 2.0. With this certi­fica­tion, SAP ensu­res that solu­tions from external provi­ders can be secure­ly inte­gra­ted into SAP land­scapes.