Q-THOR — A secure invest­ment in an innovative software
The Federal Ministry of Education and Research (Bundes­ministerium für Bildung und Forschung (BMBF)) endorses Q-THOR thanks to the innovative archi­tecture of the software and its wide range of functions for ensuring data quality in companies.
Promoting research and development
The Federal Ministry provides support for research and innovation projects through topic-specific and non-specific funding programmes. The wide range of funding is geared on one hand towards key areas of innovation and technology and on the other hand towards a variety of challenges and starting points too.
The funding is based on several aspects. In principle, the following areas are analysed:
How innovative is a project from a scientific or technical perspective?
What is the prospect of success? Is there a utilisation concept?
Avoidance of double funding
Has funding previously been granted for the idea behind the project, or will it be?
Q-THOR – A product with innovative drive
Q-THOR successfully passed the assessment process for prospective funding by the Federal Ministry of Education and Research. The following aspects in particular led to the Ministry's positive decision:
We are proud of this; it spurs us on to further realise all of our creative and innovative ideas. This is how we generate real added value for our customers, because by using Q-THOR, we enable them to success­fully handle the issue of data quality, a challenge that companies will be facing for decades to come.
And there's more good news: parallel to this funding by the Federal Ministry of Education and Research, we are currently carrying out further processes to certify the innovation and quality of our product Q-THOR. These include certification of Q-THOR by SAP and the availabiity of the product in the SAP store.
You want to read more about Q-THOR?
More exciting topics from our newsroom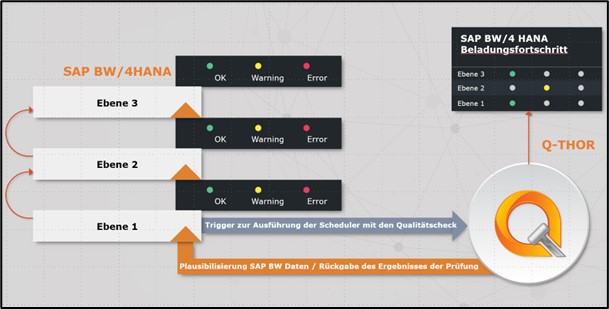 Our standard software Q-THOR can easily improve data quality in...
Read more