Q-THOR helps you to sustainably improve and ensure your data quality. Business users (e.g. data owners and data stewards) measure the quality of "their" data in self-service as it is created and delivered. There are standard processes and functions available for this, such as data quality checks and KPI monitoring in dashboards. They themselves then decide whether the level of data quality is high enough to distribute the data throughout the company.
Importance of Data Quality
Importance of Data Quality
Data quality is a key indicator in these times of growing data volumes because more and more business models and important corporate decisions are based on data. The quality of this data therefore has a direct effect on corporate success.
Through the data-driven approach, companies quickly distribute the data that is generated and delivered throughout the entire data warehouse through processing procedures. If this data is distributed without first being checked and it is inaccurate, it is almost impossible to rectify it at a later date.
This way, users are already improving their data quality with Q-THOR.
(please touch with the mouse to rotate the tiles)
This way, users are already improving their data quality with Q-THOR.
With Q-THOR, your data deliveries are even safer! Through plausibility checks on external data deliveries (e.g. from group companies) at the point of delivery, you ensure that only data that has been successfully verified is distributed throughout the data warehouse and integrated into processing procedures.
With Q-THOR, you can fast close even faster! During fast closing, inaccurate data leads to costly analyses and a lot of rectification work. By validating the data when gathering and compiling it, problems with data quality are identified immediately, not just at the end of the processing chain (e.g. in reports).
With Q-THOR, complying with regulatory requirements is even easier! Regulations such as Basel, Solvency and BCBS 239 contain requirements concerning the structure, organisation and processes of data and data quality management. Q-THOR offers support with compliance while also providing all information for your data dictionary and your data governance framework.
With Q-THOR, you have an even better grip on your master data! As it is so user-friendly, the software enables data owners to take care of the high quality of "their" data themselves. They independently set up quality checks and are immediately notified of errors or inconsistencies when entering/updating data.
With Q-THOR, migrating your data is even easier! One major challenge in migration projects is the inadequate quality of the data being migrated. By monitoring data quality at all times during migration and generating data cleansing orders, you have a grip on data quality during migration too.
Improving Data Quality Throughout the Entire Company
Improving Data Quality in 4 Easy Steps
To enable business users to measure their data and improve their data quality without any programming knowledge, Q-THOR is equipped with an easy-to-use interface and many self-service functions. For example, dashboards, checks and analyses can be carried out by the specialist divisions themselves which means that IT does not have to set update plausibility checks during the course of operations.
Step 1: Self-Service Data Plausibility Checks
Q-THOR's modern, user-friendly web interface enables you to update your individual quality checks. As a user, you can therefore verify the plausibility of your data through self-service at one centralised point within your company — and all without any assistance from your IT department.
Step 4: Monitoring Data Quality in Real Time
The Q-THOR dashboard provides all relevant information concerning data quality in your company at a glance. The quality checks you have scheduled and performed are automatically updated and Q-THOR guarantees the necessary transparency of your data in real time.
Success Story: Q-THOR at MEAG
"Data quality management is a key component of digitalisation in the property sector and sustainably improves data quality."
Siegfried Korb, Head of Property Manage­ment Germany
MEAG – Asset Manager of Munich Re and ERGO
Possible architecture scenarios
Q-THOR wins users over with its completely generic architecture and is easily integrated into your system and data landscape without altering these. The landscape can be both SAP-based and non-SAP-based. The loading and integration of data for Q-THOR can take many forms, depending on your system landscape and your availability requirements, for example.
You can find further information on our website Data Provisioning & Integration >>
Learn how to go live with Q-THOR. We would be delighted to discuss your own individual pathway with you.
Get to know Q-THOR in a no-obligation 60-minute live demo (e.g. online via MS Teams). This includes enough time for your questions.
2: Try for 30 Days Free of Charge
You then have the option to try out Q-THOR for 30 days free of charge using local sample data on your computer.
Following the live demo and test, we give you the option to get to know Q-THOR in your system using your data. This way, your data owner can put Q-THOR through its paces using your own data.
Q-THOR is implemented and the corresponding data sources are linked up. Our experts will be happy to help you with this if needed.
5: Improving Data Quality Successfully
You can now use Q-THOR to achieve success in your data quality management. For example, you can build your own data quality layer (with Q-THOR at the centre) and gradually link all your data sources up. This way, you improve the data quality throughout the entire company.
Besides the process for guaranteeing data quality, Q-THOR's key functions are also demonstrated in the video.
How High is Your Data Quality?
Get started now and see real added value in your company's data quality in just one month!

Do you need to be an IT expert to use Q-THOR (to set up quality checks, for example)?
No: Q-THOR is designed to be operated by business users without extensive IT knowledge. Users are guided through the process (e.g. Checkanlage) with the help of intuitive interfaces. Besides guided mode, however, IT-savvy users can also choose professional mode (e.g. Checkeditor), which offers all the freedoms of programming.
Yes: The authorisation concept enables the detailed assignment of rights to view data and use Q-THOR functions.
Does Q-THOR provide interfaces with other systems?
Yes: Q-THOR provides standardised interfaces for supplying data to other systems (e.g. MS Outlook, MS-DevOps, etc.).
Does Q-THOR enable fault analysis at individual data set level?
Yes: Using the extensive drill-down options, faults can be analysed, commented on and saved at individual data set level. And in an auditable way too.
Can the quality problems identified by Q-THOR be evaluated in different ways?
Yes: Q-THOR offers a wide variety of KPIs for evaluating the results of quality checks in different ways. There are no restrictions on how results can be displayed. One popular display option is the traffic light view in red, amber and green, for example.
How long does it take to implement Q-THOR?
We allow around 25 days for installation, set-up and user training (depending on your particular infrastructure and availability). Our experience shows that our customers then notice a real impact on their data quality after just a few days.
More Exciting Topics from our Newsroom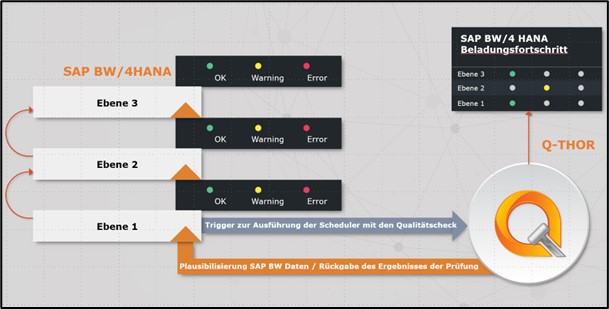 Our standard software Q-THOR can easily improve data quality in...
Read More